Cardiff & Vale Integrated Family Support Team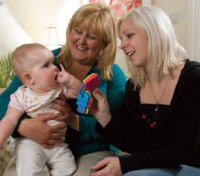 Welcome to the Website of Cardiff & Vale Integrated Family Support Team (IFST) supporting the needs of vulnerable families in crisis across Cardiff and the Vale of Glamorgan. We are here to help support families who are having problems with substance misuse which has an impact on the welfare of children.
A scheme funded by the Welsh Government, it was set up in 2010 as a partnership between Cardiff Council, the Vale of Glamorgan Council and the local Health Board.
We help some of the most vulnerable families in Cardiff and the Vale of Glamorgan by supporting them to stay together by empowering them to take positive steps to improve their lives. Through dedicated programmes such as CRAFT the professional team work with families to recognise the changes that are needed to take control of their lives once again.
This website will help you understand how our service works and how you can find more about accessing our services.
Download our leaflets:

What our Service Users are saying
"Clone the Therapist and you would have the epitome of service and care"
Father on service evaluation form.
"Reminding me of the person that I really am – without the service I would not be where I am today."
Mother on Service Evaluation form.
"The dedicated time and effort of the therapist has put right many of the problems ... I am now less dependant on others ...I have achieved so much."
Mother in letter to the service
"The Therapist really listened to us ... our relationship is now a lot stronger and I would recommend the service to anybody in my position."
Parents in a core group meeting
"we know what is expected of us now (therapist) explained it really well."
Parents in a core group meeting
"The service has helped me to become the person that I want to be, not the person I would have become, a druggie, hopeless, lost my kids and everything ... I think The service is brill."
Mother on service evaluation form.
Training and Support
We work with families through referrals from Social Services where a child is affected, or directly with families interested in getting help and support for a loved one they know through our CRAFT Programme.
Our aim is to help families create a safe and supportive place for children, where parents and carers prioritise the children's needs and focus on family life and their responsibilities as a parent.
How we work with families to do this:
Together we will look at the strengths and resources that you and your family already have. It is important that we hear about the good things as well as the things that may be causing you difficulty
We will ask you and your family what changes you each feel that you need to make. We help you to think about what these changes might be, and how to make them. We also help you to work out new strategies or practice new skills that may help
We work flexibly to provide a service that fits in with your family's needs and commitments, so that we can be there at times that are useful to you.
We aim to work with all members of your family for a minimum of three days, up to a maximum of six weeks. We will help you to set and achieve some realistic and sensible goals that will allow you to make real and positive changes in your life.
We report back to the child's Social Worker regularly, giving them updates on how our work together is progressing and any changes that you have made.
CRAFT Programme
Substance misuse affects the person you love, but it also affects you.
It can really hurt to see someone you love struggling with a drug or alcohol problem. What do you do for the best? What do you say, how do you support them and look after yourself? These are all questions that many people have or struggle to answer - this is where we come in.
CRAFT Programme is a free informal and relaxed therapeutic programme, designed especially for family members, partners and friends. We are dedicated to helping family and friends create positive change for themselves and for their loved ones who are struggling with their substance use problems.
It has been widely evaluated and the results have shown that it can help family members improve their own lives, help their loved one reduce, or even stop their substance misuse by helping them into an appropriate support service
Families who have gone through CRAFT have reported:
A happier relationship with their loved one
Better family cohesion
Less conflict, anger or depression
A greater understanding of each other

You can find out more by downloading the CRAFT Leaflet
If you think you could benefit from this programme and would Iike to book a place or simply would like to find out more information please get in touch with us directly on:
Resources
You can find out further information about the work of Cardiff and Vale Integrated Family Support Team by downloading our leaflets:

You can also get more advice and support by contacting any of our partner organisations:
*Links open in a new window.
Contact us
If you want to speak to the team or find out more about the support we offer please get in touch with us in any of the following ways:
Phone: 029 2087 3450 
e-mail: ifst@cardiff.gov.uk
Write to us:

Cardiff & Vale Integrated Family Support team
The Alps Depot
Quarry Road
Wenvoe
CF5 6AA